The best ELDs have great customer service
When something goes wrong, it's nice to have somewhere to turn. There's absolutely nothing more soothing during a stressful moment than a friendly voice and knowledgeable conversation walking you through your problem.
A skilled representative who understand what the trucking transportation industry is and what truck drivers have to deal with on a daily basis is what sets Blue Ink Tech apart. Consistently and thoroughly helping our drivers is Blue Ink Tech's bread-and-butter.
Don't understand the sleeper-split rule? We can help with that. Did you make a mistake on your logbook? We can walk you through what to do. We are the helping hand truck drivers and fleet managers have longed for.
The best ELDs should be easy to use
Being a truck driver is one of the most stressful jobs out there. Your ELD shouldn't be a reason for any of that stress. It should be easy-to-use the moment you take it out of the package.
What's great about Blue Ink Tech is the onboarding process. You can plug in your ELD, set up your account, and hit the road in 30 minutes (or less). If you run into a speed bump during set up, no need to worry - we have outstanding customer service, remember?
Flexibility with a top ELD provider matters
At Blue Ink Tech, we understand some truck drivers need services that others may not. Our company caters to those needs... We know some truck drivers need fault code readings and some don't. We recognize how difficult all the paperwork can get so we offer International Fuel Tax Agreement (IFTA) tracking. We also take logbooks serious and give our customers a variety of ways to use them.
Our customers can take full advantage of all of the services we offer or just one. Everyone has needs that are different and our products and service remain top-notch regardless.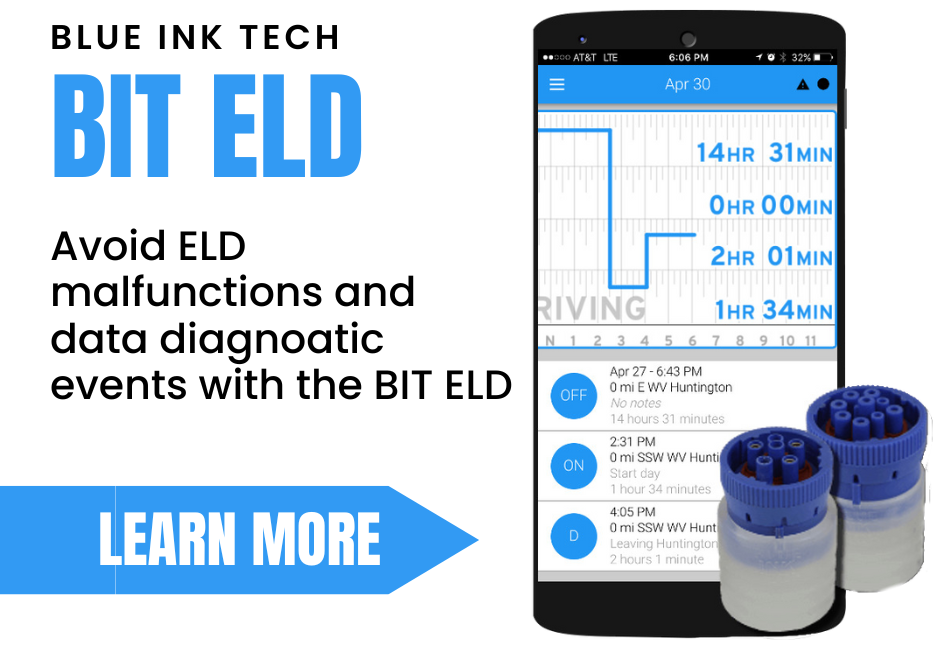 A top ELD provider grows with your business
At Blue Ink Tech, our ELDs are made in-house. There's no white labeling; we do it all right there in Huntington, West Virginia. Our products are designed here, built here, sold here, and customer support is here, too!
When you pay for a product it's supposed to work. Truck drivers have to follow strict driving regimens and there's (literally) no time for an ELD to malfunction. A truck driver has more on the line than just delivering goods. As you, your business, and the trucking transportation industry progresses and evolves, you need an ELD that's going to offer the tools you need to help grow.
The best ELD provider actually cares
With many ELD providers, being a customer is just an account number. Blue Ink Tech makes is a priority to not only make a great product right here in West Virginia, but also build great rapport with our customers. We want to make being a truck driver easier by providing the tools and resources to make that happen.