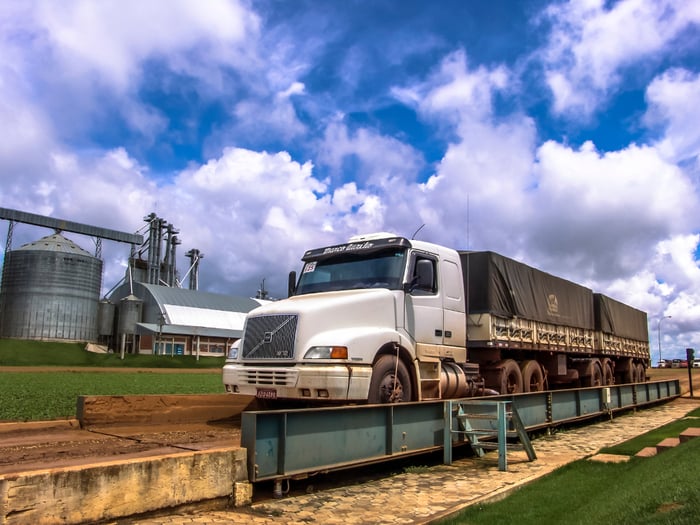 When it comes to scaling trucks, knowing what you weigh can mean the difference between getting an overweight violation and leaving money on the table by not hauling as much as possible. Overloaded trucks fall under the FMCSA's Unsafe Driving BASIC and will affect your CSA score if you are in violation.
There are also a lot of costs to carriers around how much their trucks are loaded. Truck scaling technology has made leaps and bounds over the past few years and getting loaded as much as possible is easier and more accurate than eye-balling the load.
There are a lot of benefits to knowing what your load weighs at the point of loading. If you know what your axles weigh then it is easier adjust your 5th wheel or trailer tandems to balance your load. Properly balanced loads on the drive and trailer axles are easier to pull, better for load securement and preventing the truck from rolling over accidently.
For trucks in particular there are a couple of things to consider when looking for the best solution:
Do I need my truck weights in the field?
Are my trucks able to scale on site after loading?
Do I need the highest accuracy when scaling truck loads?
The answers to some of these questions will let you know how much you can expect to pay when deciding which truck scaling solution you need.
In-ground Truck Scales
If your need is high accuracy at a single point of loading, then in-ground truck scales are a popular choice. They offer highly accurate readouts and can be certified by a third party to be used confidently for trade.
Upsides to in-ground truck scales
In-ground truck scale technology is constantly evolving, and weight data can be logged on cell phones and cloud-based applications for reference in the future.
Once in-ground truck scales are installed they can take a lot of wear and tear before needing re-calibrated or replaced.
Most scales will be 99.8% accurate, which is a variance of 160lbs for an 80,000lb truck.
Downsides to in-ground truck scales
In-ground scales are very expensive to purchase. Most in-ground scales can cost between $40,000 - $100,000 to get installed, and the process can take weeks.
In-ground scales can only be used at a single point so trucks will have to drive to them to get truck weights.
Air suspension truck scales
Air suspension truck scales are cost effective and easy to install. These types of truck scales go on the air suspension line and some make it easy convert air pressure into weight readings. With today's technology, drivers can get accurate weight readings in their cab with no need for a professional.
Upsides to air suspension truck scales
These type of truck scales can be installed in 10 minutes by anyone with a utility knife.
Replacing units is as easy as changing a battery or screwing on a new sensor.
They work well with drop-and-hook trucking applications.
Incredibly cost effective compared to other truck scaling solutions
Downsides to on-board truck scales
Truck weights can be accurate but not certified for legal trade
Users will need a bluetooth enable device or cell phone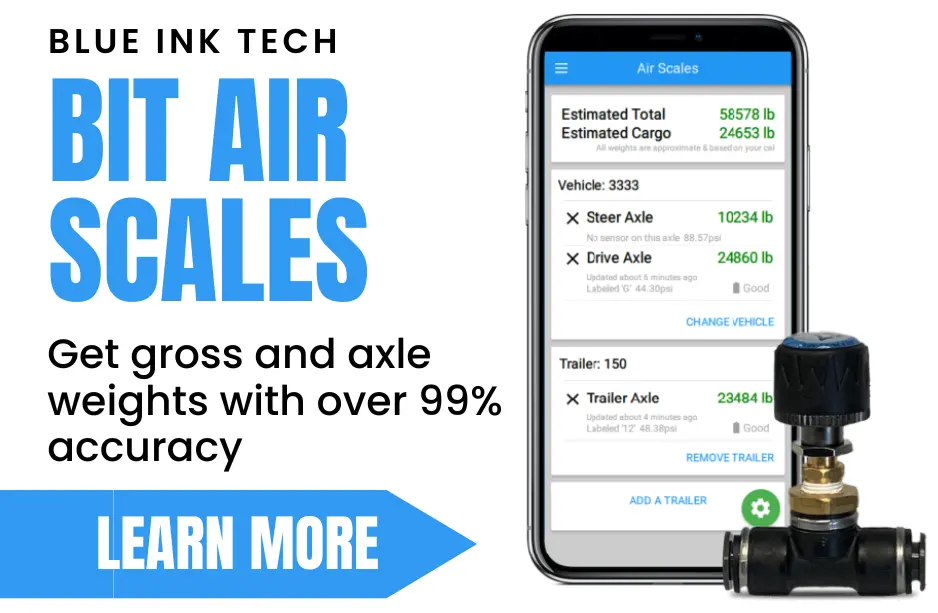 Spring suspension and axle scales
Spring truck scales are great for determining how much a truck is has onboard. Highly accurate sensors can determine how much stress is being allied to the springs and transmit the information to drivers inside of an application or in-dash units.
Upsides to on-board truck scales
Spring suspension scales are able to provide weight readings while loading so that drivers are aware of what they weigh while loading
They can provide weight readings to an app or in-dash unit for easy and instant readability
Spring suspension scales are easy to calibrate and re-calibrate when needed.
Spring suspension scales are lower cost compared to in-ground scales
Downsides to on-board truck scales
They require a professional to install and will require trucks and trailer to be taken out-of-service while being installed
Replacing units means buying new sensors and taking equipment back down
Trouble shooting can require a expensive equipment or professionals to come out
Portable axle scales
Portable axle scales are becoming more popular by both DOT enforcement and carriers. These scales can be transported by drivers and can provide axle weights from wherever the driver is able to bring them out.
Upsides to portable truck scales
Drivers can scale from anywhere there is a flat and solid surface
Can be calibrated by a third party to ensure a high degree of accuracy
Can let drivers know if they are over on gross or axle weights and adjust loads without having to leave to far from the site.
Downsides to portable truck scales
Requires a lot of getting in and out of the truck to make sure the scale is under each axle which can take some time to scale
They've been known to break if the truck has too much momentum driving onto the scale.
They're expensive to buy and repair.