You want to get the most out of your fleet vehicles, avoid unscheduled downtime, and keep them as long as possible. Here are some tips on how to lengthen the longevity of your vehicles and avoiding maintenance issues that generate DOT fines.
Purchase vehicles meant for your fleet.
There are many factors you should take into consideration. Are you traveling long distances? Are your loads heavier than usual? What cab design best fits your operations? Should you buy new or used? Selecting a vehicle best suited for your business will reduce wear and tear and help you out in the long run.
Follow the recommended service and maintenance.
While it may be convenient to apply universal service on your vehicles, it's recommended you check each vehicle's owner manual for every different make/model. Using factory-recommended parts and fluids will certainly be a benefit in the long haul. Also, be sure to check in on parts like your trucks air compressor regularly because these also have filters and fluids to make sure brakes and suspensions are working as they should.

Always track preventative maintenance
Once you know the maintenance schedule for each vehicle, make sure you stick to a routine. Set up reminders and notifications to help notify your carrier when maintenance is due. Watch for engine fault codes and check engine lights. Make sure that drivers are performing their daily vehicle inspection reports. Once completed, keep a hold of records in case you may need them for later reference. Good fleet management software should offer a maintenance schedule to help keep track of when your vehicles are due for service.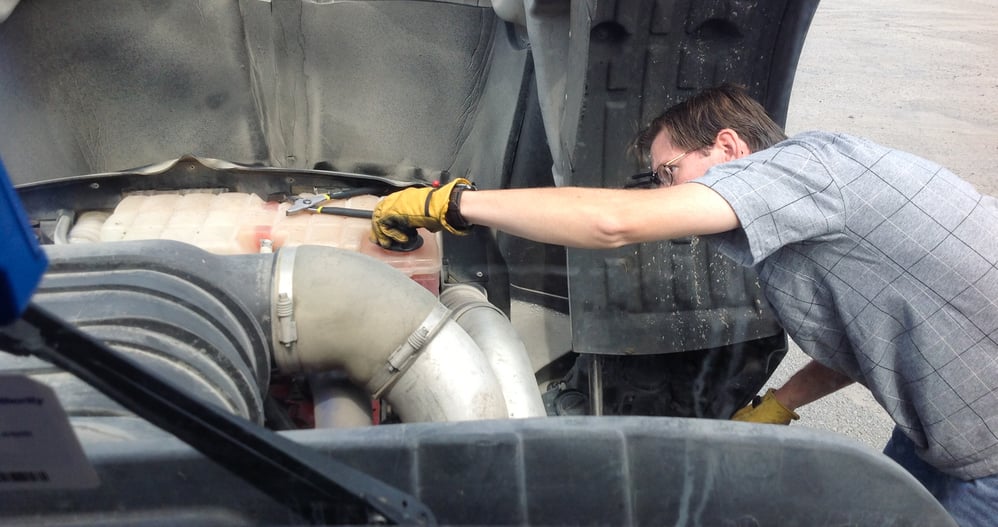 Reduce engine hours
Many trucks can idle for long periods of time, up to eight hours a day. This can lead to increased maintenance costs and causes unwanted wear on the vehicle. Incentivize drivers to reduce their vehicle's engine hours with rewards and set up alerts when an engine's idle time has exceeded its limits.
Check your tires regularly
Tires can help indicate the health of your vehicle. Check your tires for poor alignment or any irregular wear. Proper inflation will also ensure the longevity of your tires. Be sure to have drivers properly inspect them to prevent any major problems later down the road.
Have a clean fleet
Keeping fleet vehicles tidy and clean will allow a driver to properly care for them. It also gives a sense of accountability and prevents the buildup of dirt and debris. Have your drivers incorporate cleaning checks into their pre-trip inspections. Proper care and inspection of a vehicle could also help discover any potential issues.
Operate and drive responsibly
Keeping an eye on bad driving behavior. Immediately addressing it can help avoid bad habits. Encourage drivers to treat their vehicle with care, such as having the engine warm up before a trip or accelerating and braking smoothly.