The Daily Vehicle Inspection Record is done each day that a commercial motor vehicle (CMV) is in use. The driver of that vehicle does this to ensure the safety of the truck before it hits the road.
The Federal Motor Carrier Safety Administration (FMCSA) says it is against the law to operate a commercial motor vehicle if its safety is not certified. The safety of the CMV lies solely on the driver.
The Interstate Commerce Commission began requiring drivers to attest to the safety of their CMV starting in 1939. Decades later, it turned into the DVIR.
While a post-trip inspection is not required, the FMCSA says a pre-trip inspection is a must. The driver "must include all defects in the parts and accessories listed in that were discovered by or reported to the driver during that day."
Even if a driver uses more than one CMV per day, a DVIR must be done before the driver can put the truck on the road.
The FMCSA says the DVIR must include "defects and deficiencies" on the CMV in a number of categories which include:
Service brakes, including trailer brake connections
Parking (hand) brake
Steering mechanism
Lighting devices and reflectors
Tires
Horn
Windshield wipers
Rear-vision mirrors
Coupling devices
Wheels and rims
Emergency equipment
If a driver finds any part of his or her vehicle to be deficient they are required to get it fixed before they can use the CMV. The original DVIR with the deficiency must be kept for three months and the corrective actions taken must be noted on the original DVIR.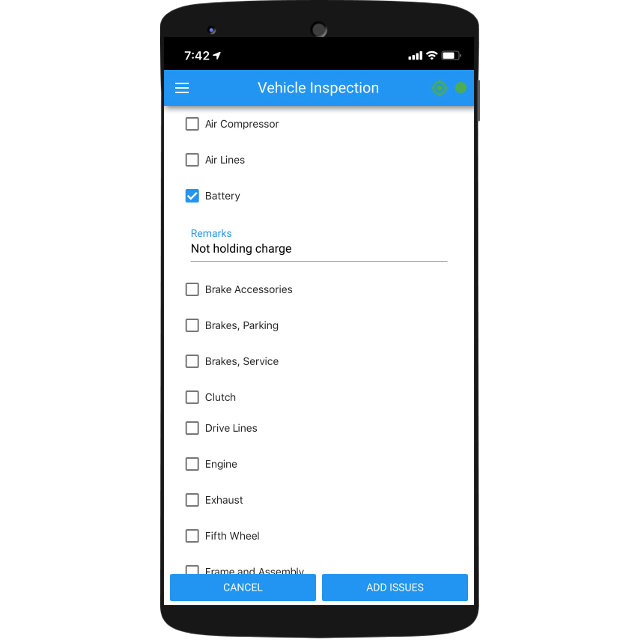 Manage DVIRs in the free Blue Ink Tech app with your BIT ELD
What are the consequences of not doing the DVIR?
The FMCSA says that a driver who does not certify their DVIR can be put out of service or fined.
Why choose BIT for DVIR?
At Blue Ink Tech we've made it easy to log the DVIR by putting it right at your fingertips. Drivers who use the BIT ELD and take care of their hours-of-service and DVIRs all in one place. This reduces the number of apps drivers need to use to take care of task and they can account for the time in their logbooks. Drivers can submit their DVIRs through the Blue Ink Tech App, and those reports will be available for carriers and administrators on the Blue Ink Tech web portal instantly.