The level 1 inspection is the one of 8 levels of inspections performed by DOT in the trucking industry. It is one of the most intensive inspections performed by the Department of Transportation (DOT) for commercial motor vehicles. The level 1 inspection involves reviewing the driver's documents as well as walking around the equipment to make sure that everything follows the FMCSA's regulations.
The level 1 inspection is known as the "North American Standard" inspection by the Commercial Vehicle Safety Alliance (CVSA). During this type of inspection the driver can expect a DOT official to take at least 60 minutes to perform and cover most of the areas under the FMCSA's 7 Behavior Analysis and Safety Improvement Categories or BASICs.
During this type of inspection it is most common for vehicle maintenance issues to be uncovered and many violations being issued for not properly maintaining the truck or trailer. However, during the driver's interview part of the inspection other points of concern such as hours of service, driver fitness and controlled substance and alcohol violations may occur. These violations uncovered by these inspections can impact your CSA score and expose you to other DOT audits if you are not meeting many of the regulations.
The following items should be available for review:
Driver's license

An electronic logging device (ELD) for logging hours of service
Alcohol and drugs usage
Medical certificate confirming the operator passed their annual DOT physical exam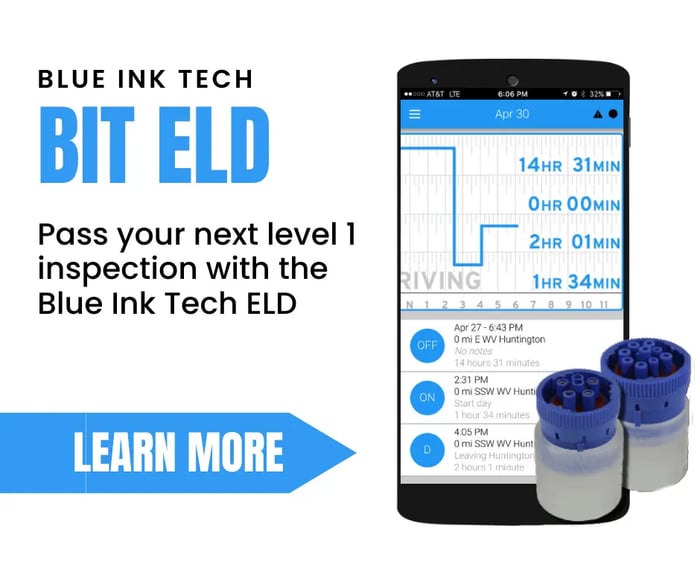 You can learn more about the CVSA inspection procedures here. The procedure set by the CVSA for DOT officers to perform during a level 1 inspection are as follows:
Choose the Inspection Site
Approach the Vehicle
Greet and Prepare the Driver
Interview Driver
Collect the Driver's Documents
Check for Presence of Hazardous Materials/Dangerous Goods
Identify the Carrier
Examine Driver's License or CDL
Check Medical Examiner's Certificate and Skill Performance Evaluation (SPE) Certificate (if applicable)
Check Record of Duty Status
Review Driver's Daily Vehicle Inspection Report (if applicable)
Review Periodic Inspection Report(s)
Prepare Driver for Vehicle Inspection
Inspect Front of Tractor
Inspect Left Front side of Tractor
Inspect Left Saddle Tank Area
Inspect Trailer Front
Inspect Left Rear Tractor Area
Inspect Left Side of Trailer
Inspect Left Rear Trailer Wheels
Inspect Rear of Trailer
Inspect Double, Triple and Full Trailers
Inspect Right Rear Trailer Wheels
Inspect Right Side of Trailer
Inspect Right Rear Tractor Area
Inspect Right Saddle Tank Area
Inspect Right Front Side of Tractor
Inspect Steering Axle(s)
Inspect Axle(s) 2 and/or 3
Inspect Axle(s) 4 and/or 5
Prepare the Vehicle and Check Brake Adjustment
Inspect Tractor Protection System (this procedure tests both the tractor protection system and the emergency brakes)
Inspect Required Brake System Warning Devices
Test Air Loss Rate
Check Steering Wheel Lash
Check Fifth Wheel Movement
Complete the Inspection
After going through a DOT inspection if you were cited for a violation that you think was unjust you can send your supporting documents to the FMCSA with in 2 weeks using the DataQ. This will allow your inspection to be reviewed by the FMCSA and overturn the violation if an error was made by the DOT officer.