What is the ELD short-haul exemption?
The short-haul exemption is designed for drivers with a local route who work regular hours and return home every night. The rule allows these drivers and their carriers to avoid certain Hours of Service requirements as well as the ELD requirements set in the FMCSA's ELD mandate.
Short-haul drivers are exempt from the following:

Driver's logs

30-minute break period
Both property and passenger carriers are able to claim hours of service short-haul exemption if they drive only within a 150-mile radius and report back to their starting location within the 14-hour shift limit.
Who qualifies for an ELD short-haul exemption?
To qualify, carriers and drivers must meet the following requirements:
Cannot driver more than 11 hours within a 14-hour period

Must only drive within a 150-mile air radius from the starting point

Must take at least 10 consecutive hours off-duty between shifts

Only exceeds the air radius 8 days out of a 30-day period

Return to the same location where they started their shift every day
Carriers must keep track of driving time records:
Time driver reports for duty daily

Total number of on-duty hours each driver is on daily

The time each driver goes off-duty daily

Total driving time for each driver in the past week

These records are meant to be kept for up to six months; to reflect that the carriers and their drivers are following hours-of-service regulations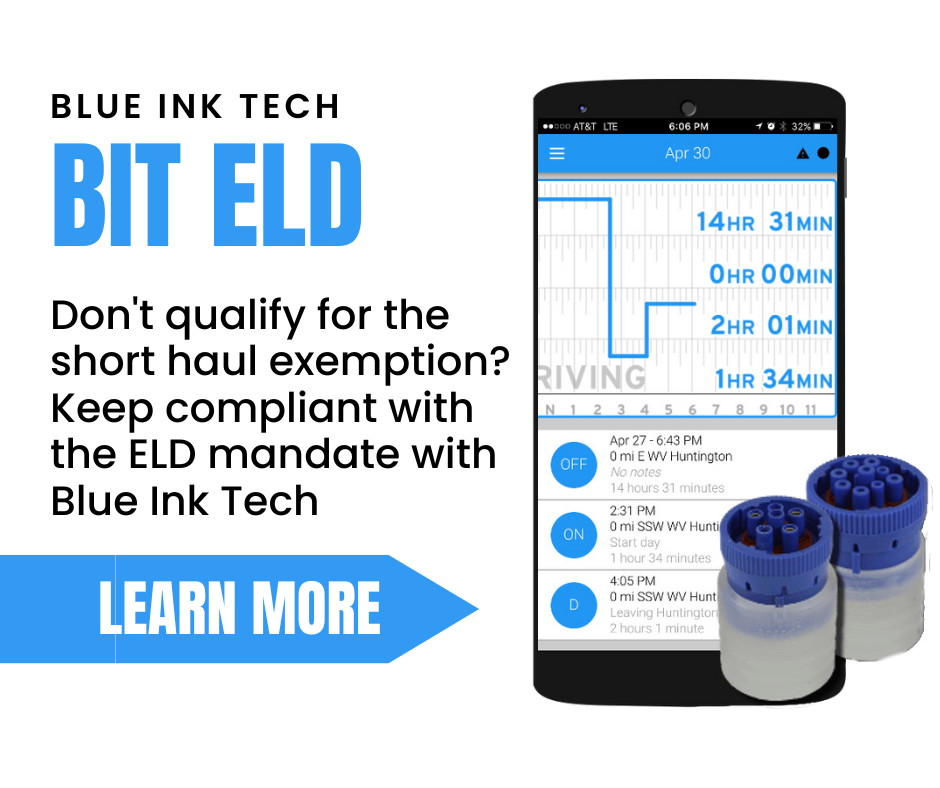 What happens if a driver exceeds the radius or hours restriction?
Short-haul exemption varies from driver to driver on a day-by-day basis. If a driver goes over their 11-hour drive limit or the 150-mile air radius, the driver must log their duty statuses. Even if the driver doesn't realize they went over their drive limit or the air radius.
However, the ELD mandate states that short-haul drivers that only exceed the limits 8 days in a rolling 30-day period do not need to use ELDs. The driver would still need to document their duty statuses for each day they exceeded, but a paper log is allowed to be used rather than an ELD.
Keep in mind though, if a driver exceeds the 8-day limit, they are required to use ELDs or else they may receive a violation for failing to be compliant.
How to transition to the ELD short-haul exemption?
Rework your driving routes to be with the 150-mile air radius.

If your carrier or drivers don't meet the radius requirement, routes can be reconfigured to ensure a journey does not go outside of it.

Readjust workloads to adhere to the shift requirements.

This can be done by adjusting driver's schedules or using a scheduling tool to see where to shorten shifts.

Employ an ELD, even if you meet the exemption rulings.

The best ELDs can be helpful tools for both carriers and drivers. They can help with keeping track of data and optimize routes.

Stay updated with the FMCSA regarding any changes to the short-haul exemption

. The FMCSA rulings may change; to ensure you stay compliant with the short-haul exemption, carriers and drivers should stay updated on the latest changes.