In September 13,733 new DOT numbers were issued for new carriers. This is down from August and continues the downward trend of new trucking authorities in the US. New trucking companies are down over 34% from 2022's year high of 21,059.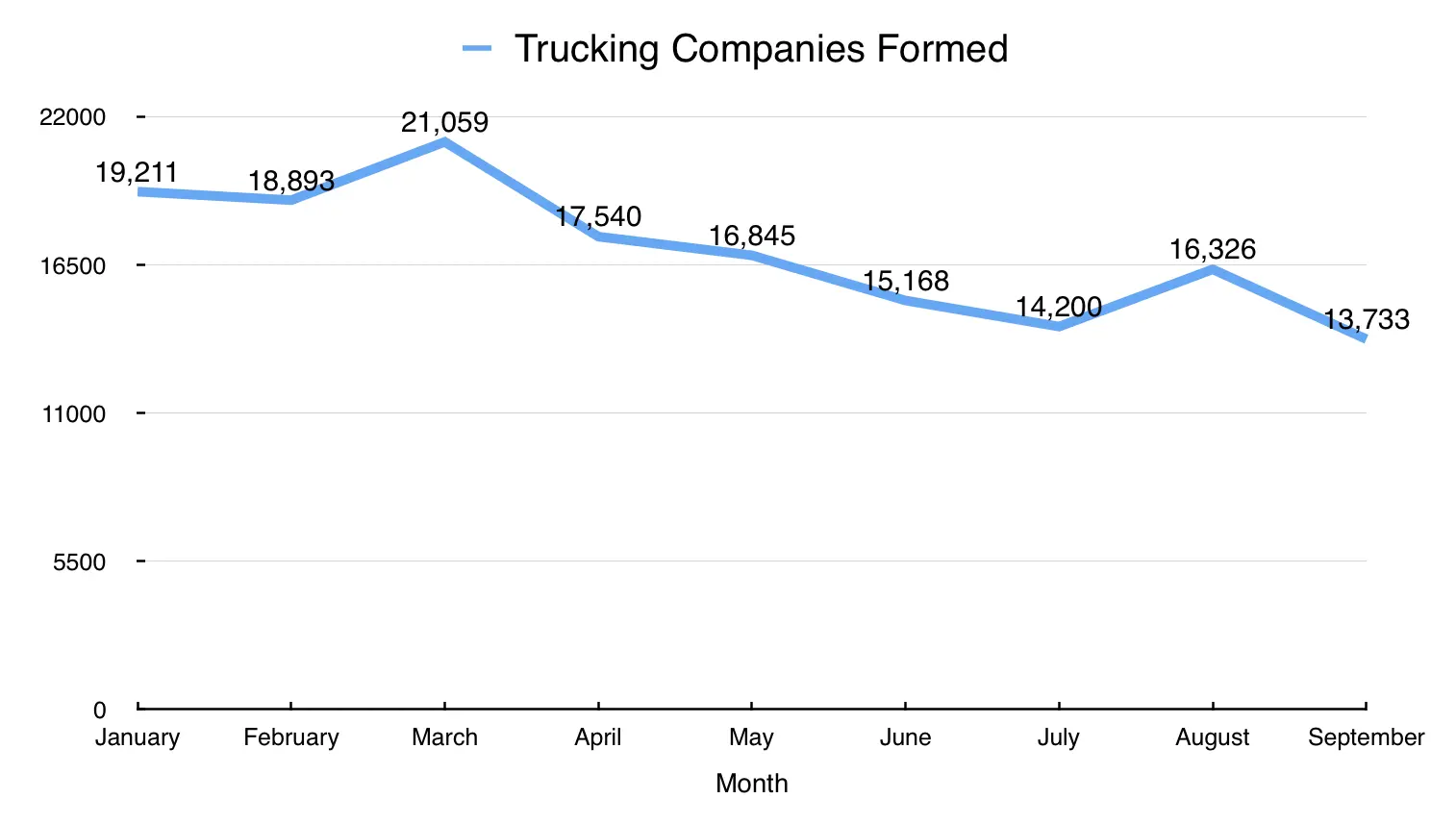 2022 has been a tough year for the trucking industry with headwinds coming from rising fuel prices, surging inflation and increasing cost to operate. Rising interest rates are making borrowing to purchase trucks and other equipment more expensive to get started as well.
It is likely that the downward trend of new trucking companies will continue until these headwinds begin to turn and we see an easing on inflation and borrowing becoming less expensive.
Below is the list of trucking companies that were formed in each state. California, Texas, and Florida maintain the top positions of trucking heavy states with the most trucking companies started in September.
| | |
| --- | --- |
| California | 1,734 |
| Texas | 1,564 |
| Florida | 1,086 |
| Georgia | 827 |
| New York | 570 |
| New Jersey | 545 |
| Pennsylvania | 528 |
| Ohio | 522 |
| North Carolina | 496 |
| Illinois | 455 |
| Maryland | 332 |
| Michigan | 318 |
| Washington | 290 |
| South Carolina | 275 |
| Indiana | 247 |
| Wisconsin | 241 |
| Tennessee | 238 |
| Arizona | 233 |
| Minnesota | 232 |
| Virginia | 230 |
| Colorado | 228 |
| Massachusetts | 210 |
| Alabama | 196 |
| Missouri | 174 |
| Kentucky | 167 |
| Oklahoma | 155 |
| Nevada | 139 |
| Connecticut | 131 |
| Louisiana | 126 |
| Mississippi | 124 |
| Oregon | 116 |
| Hawaii | 115 |
| Iowa | 105 |
| Utah | 105 |
| Nebraska | 96 |
| Kansas | 90 |
| Idaho | 83 |
| Arkansas | 78 |
| New Mexico | 71 |
| Delaware | 65 |
| North Dakota | 53 |
| West Virginia | 43 |
| Maine | 42 |
| Wyoming | 40 |
| Rhode Island | 39 |
| Montana | 33 |
| South Dakota | 29 |
| New Hampshire | 25 |
| Vermont | 11 |
| Alaska | 7 |